By Jason MacKenzie
Internet Blogger & Death Metal Band: http://www.internetnews.press
SPORTS ILLUSTRATED
LINK: https://www.si.com/wrestling/2023/02/21/wwe-wrestlemania-39-plans-sami-zayn-roman-reigns-cody-rhodes
WWE Professional Wrestling recently featured Action Park mock up movie "Action Point" star Johnny Knoxville who although won the match had to pin Sami Zayn by tying him to the table.
No help from other stars with Knoxville who were mercilessly pounded by Sami Zayn.
Either way the Action Park Championship Title if there was one goes to Sami Zayn who outperformed Knoxville with his "Bloodsport" style tactics.
Any star coming from Action Park to the WWE probably got what he deserved anyway, including tagging Sami Zayn with the humiliating loss of Johnny Knoxville who had to cheat to win.
Now the new name in town is Sami Zayn taking a piece of the Johnny Knoxville promotion status to the WWE with the ruthless beating of Knoxville.
Zayn has also just helped the "Bloodline" led by Roman Reigns, Tribal Leader, who is collecting titles by enlisting Prize Fighter Kevin Owens to back him for the Tag Team Championship win.
The titles kept in the "Bloodline" story for Roman Reigns were lost by other Tribe Members The Uso's who were feeling pressure from Reigns to bring them more titles have now given them up to Prize Fighter Kevin Owens and Billy Zayn for the "Bloodline".
The Uso's I assume are now moving on in the tribe to seek bigger titles for themselves now that Zayn has finally pulled his weight in the WWE by enlisting Kevin Owens to help compete for Reigns by winning more titles for him and the "Bloodline" by now giving him access to the Prize Fighting Circuit for his title collections through the new alliance between Sami Zayn and Prize Fighter Kevin Owens.
RELATED: Kevin Owens & Sami Zayn Win WWE Tag Team Championship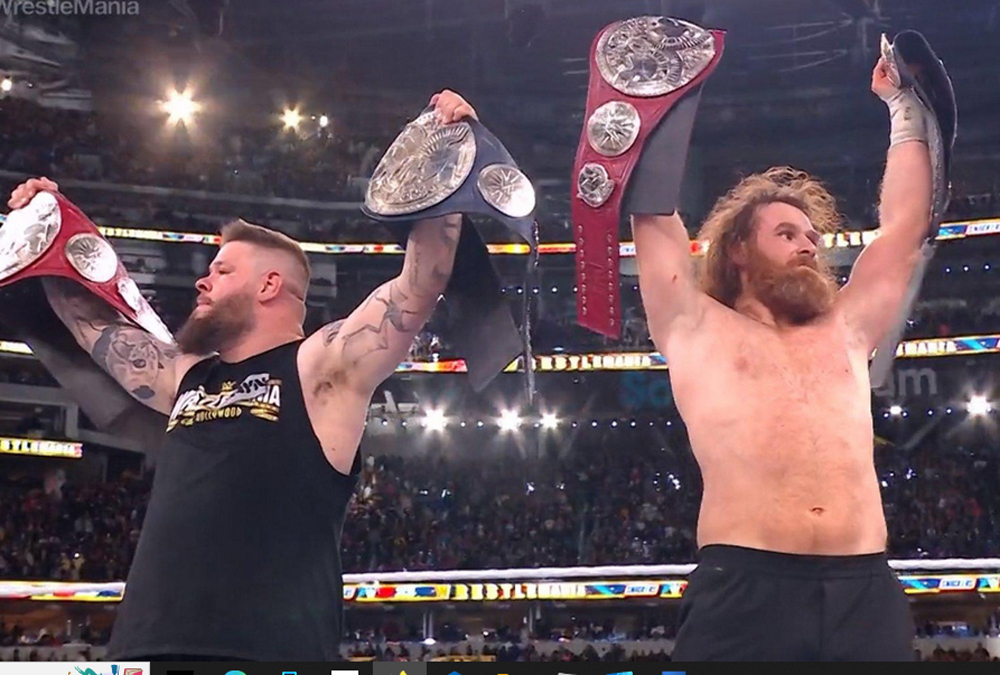 LINK: https://www.si.com/wrestling/2023/04/02/wrestlemania-39-sami-zayn-kevin-owens-earn-their-wrestlemania-moment
WrestleMania 39 opened with a very entertaining first night.
All eyes remain on night two, but there were plenty of highlights from the Saturday show, including Sami Zayn and Kevin Owens winning the WWE tag team titles.
Rhea Ripley defeated Charlotte Flair in a hard-hitting clash, and Seth Rollins brought the absolute best out of Logan Paul.