Editors Note: 46 degrees celisus temperatures we're assuming took place in the article during the heat dome under wild fire conditions and most of this "heat" captured in the dome was probably from forest fires caused by drying conditions of the heat dome itself.
LINK: https://www.theweathernetwork.com/ca/news/article/heat-dome-inflates-over-western-canada-the-harbinger-of-all-time-warmth
Heat dome inflates over Western Canada, the harbinger of all-time warmth?
Editor's note: This article is no longer be updated. Click here for the latest on the potential life-threatening heat wave impacting Western Canada.
A heat dome usually camps in the Four Corners section of the southwestern United States; instead, it will bubble up directly over British Columbia by Saturday — extending into the northern territories and Alberta.
This feature will be particularly perilous because it's so rare in this part of the world. Sixty per cent of British Columbians do not own an air conditioner in their households.
A heat dome is colloquially known as an intense high-pressure system that features descending air that compresses and warms to record levels at the surface.
These features tend to be cloudless, as well; this setup is an excellent inhibitor for vertical motion that produces clouds in the atmosphere. Heat domes often sniff out regions in drought, and as the old saying goes, drought breeds drought.
Then you get a feedback effect. The warm air gets trapped in the lower elevations, and temperatures can only fall into the 20s at night. The following days can be incrementally toastier.
RELATED: Out camping? Here's how to safely put out your campfire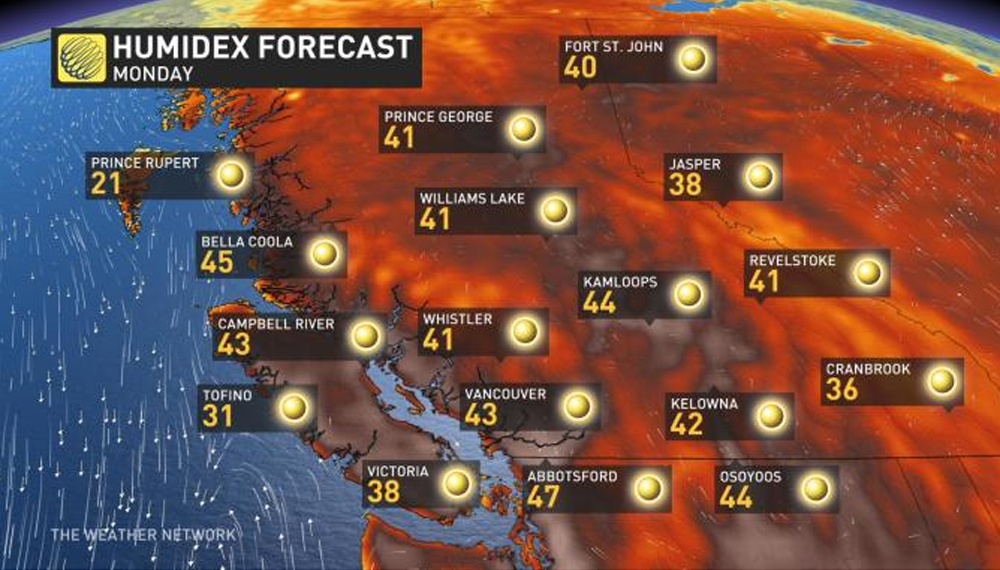 LINK: https://www.theweathernetwork.com/ca/news/article/wildfire-prevention-how-to-put-out-a-campfire
Despite a few setbacks, spring is indeed marching on – to the delight of people drawn to Canada's wilds for a spot of camping.
But depending on how those proverbial spring showers shake out, the season's rising temperatures also mean wildfire risk is once again a factor.
That's where campers come in. While there are few greater joys in life than a good, roaring campfire, they can be a serious wildfire risk if not put out properly (in fact, human-caused wildfires make up more than half of the yearly total).
Watch the video above from Kyle Brittain, The Weather Network's Alberta correspondent, for tips on how to safely extinguish a campfire.