Wintry conditions continue to plague B.C. after week of extreme cold, snow
LINK: https://www.cbc.ca/news/canada/british-columbia/wintry-conditions-continue-to-plague-b-c-after-week-of-extreme-cold-snow-1.5432116
After a week of winter weather that walloped much of B.C., some parts of the province are getting a reprieve — others, not so much.
A snowfall warning is in effect for the Fraser Canyon, with 10 to 20 centimetres expected. Freezing rain is expected on the Coquihalla Highway between Hope and Merritt, and for Highway 3 from Hope to Princeton.
A winter storm warning is in effect for the Fraser Valley, including Chilliwack, Hope and Abbotsford.
Total snowfall accumulations could range from five to 10 centimetres. As conditions warm up, that snow could transition from snow, to freezing rain, and then to rain.
A wind warning is in effect for Greater Victoria, North Vancouver Island, and the Southern Gulf Islands, with southeastern gusts of 60 to 80 kilometres per hour expected. Thousands on Vancouver Island are currently without power as a result of the windy conditions.
A winter storm warning is also in effect for east Vancouver Island, from Courtenay to Campbell River, Duncan to Nanaimo, and Nanoose Bay to Fanny Bay. Heavy, wet snow is expected to turn to rain early on Saturday.
A winter storm warning is in effect for the Sea to Sky from Squamish to Whistler, bringing a mix of weather from heavy snow, to freezing rain, and blowing snow. Squamish could get up to 20 centimetres of snow.
Environment Canada is urging people to consider postponing non-essential travel until conditions improve.
RELATED: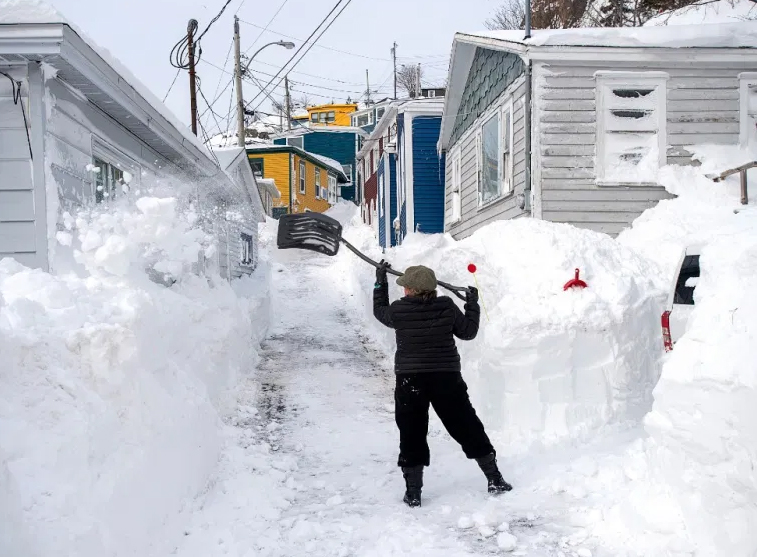 Extreme snowfall hits New Foundland:
LINK:https://nationalpost.com/news/canada/armed-forces-being-mobilized-to-help-eastern-newfoundland-dig-out
Armed Forces to help Newfoundland residents after province records unprecedented levels of snow
ST. JOHN'S, N.L. — Armed Forces personnel were deployed Sunday to help Newfoundland and Labrador dig out from the monster blizzard that paralyzed eastern regions of the province with record breaking amounts of snow, as forecasts called for yet more precipitation overnight.
Premier Dwight Ball asked for Ottawa's help on Saturday, as residents of St. John's and other communities on the Avalon Peninsula awoke to drifts that blocked doorways and clogged roads.
Through the weekend, neighbours worked to help one another unbury their vehicles and homes, and to locate necessities ranging from prescription medicines to gasoline.